CELL CULTURE SYSTEMS – HUMAN AND RODENT
Primary human and rodent cell/tissue culture from multiple organ systems
Long-term normal and transformed cell line culture
Dose-response testing in cells to define drug activity or toxicity
Generation of cell culture supernatants for growth factors, proteins, and matrix components
Development of client-specific cell culture models for drug screening
PHARMACEUTICAL APPLICATIONS:
Screening of compounds for activity or toxicity
Defining human primary cell or cell line responses
Supplementing of internal cell culture resources
Mechanistic determinations of drug efficacy or toxicity
Advanced cell culture approaches to mimic in vivo conditions
Comparative testing of preclinical and clinical drug responses
Cost-effective development new cell-based models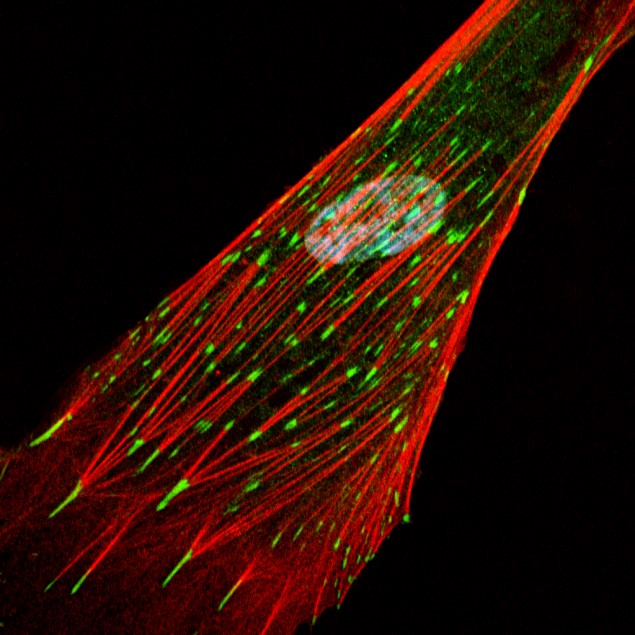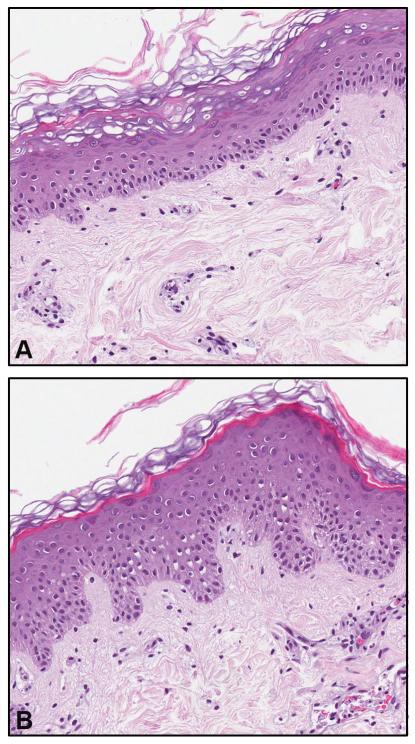 – Multiple replicate cultures from each skin donor
– Viability and homeostasis maintained for weeks in culture
– Healthy skin, aged skin, photodamaged skin, psoriatic, diabetic skin etc.
– Can be used in conjunction with primary culture keratinocytes and fibroblasts from same donors
– Useful for early stage (pre-clinical) assessment of:
Skin toxicity, corrosivity, contact irritation, contact sensitization
Epidermal hyperplasia and skin thickening; Normal and abnormal differentiation and barrier function
Skin atrophy / skin aging / prevention
Dermal effects: Collagen, proteoglycan and glycoprotein production and degradation, MMPs, MMP activation and inhibition, other proteinases
Fibroproliferative and fibrotic changes
UV-skin damage
Effects on hair follicles, sebaceous glands etc.
Mast cell biology, vascular biology, melanocyte biology
Skin immunology
– Organ-cultured skin useful for assessing cytokines, growth factors and other molecules of interest; Used for gene array and proteomic analysis; signaling pathway assessment
– Amenable to structural analysis: histology / cytology, immunohistology / immunofluorescence; and ultrastructure (TEM, SEM)
– Scientists at JV Biolabs have over 100 publications in use of this technology
human psoriatic skin – scid mouse transplant model
The human psoriatic skin – scid mouse transplant model is the industry accepted model for preclinical assessment of potential anti-psoriatic agents.
JV BIOLABS has over 10 years of experience with this model.
Can assess clinical changes, histology features and immunohistology. Changes in growth factor / cytokine production with treatment.
Topical, systemic and oral dosing is possible.
Transplantation model can be used alone for demonstration of therapeutic efficacy.
Transplantation model can be used in conjunction with human skin organ culture and keratinocyte culture to assess mechanisms of action.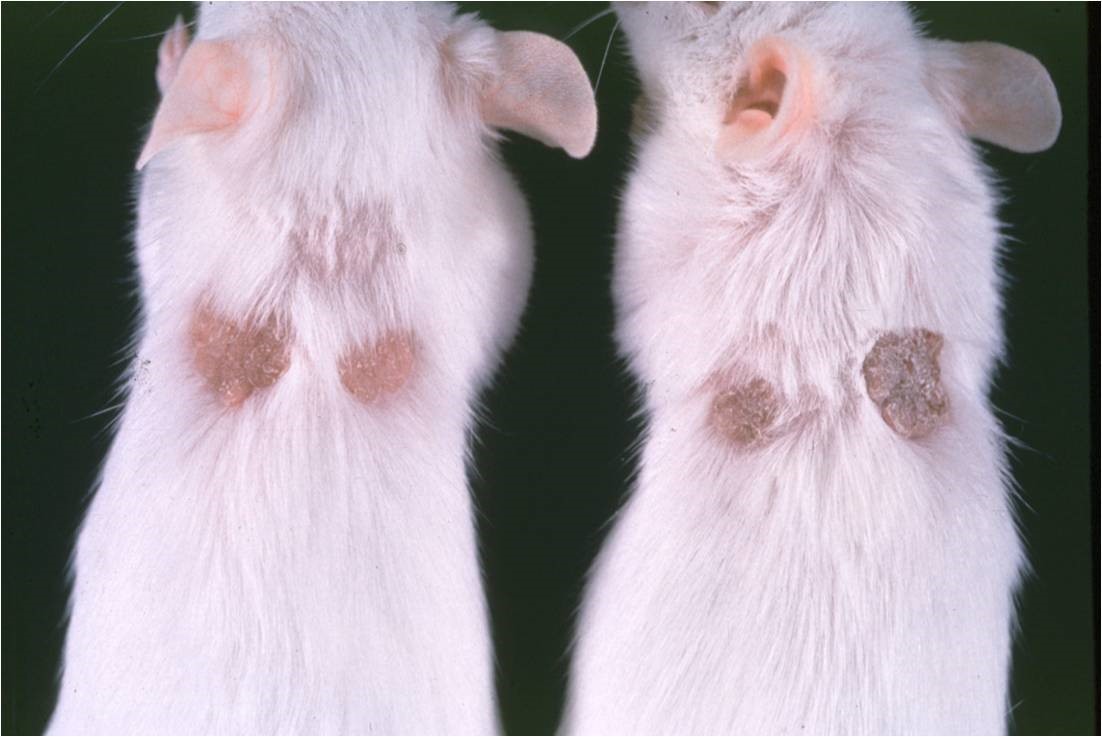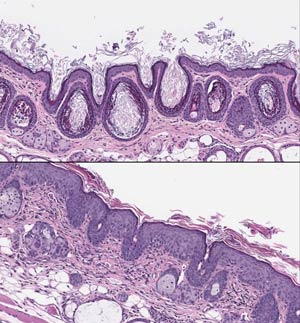 THE RHINOMOUSE MODEL IS THE INDUSTRY ACCEPTED MODEL FOR PRECLINICAL ASSESSMENT OF RETINOIDS FOR ANTI-ACNE ACTIVITY
JV Biolabs has over 15 years of experience with this model
Assess efficacy (anti-keratinization), inflammation, skin irritation, systemic toxicity in same
experiment
Topical, systemic and oral dosing possible
Native molecules and formulated products can be employed
Can be used alone for demonstration of therapeutic efficacy
Can be used in conjunction with human skin organ culture and keratinocyte culture to assess
mechanisms of action
Non-retinoids compounds can also be evaluated in the rhinomouse model
Vascular Biology and Endothelial Cell Models
SYSTEMS FOR ENDOTHELIAL BIOLOGY
Acute and chronic vascular injury models
Human primary endothelial cells and established cell lines
Healthy volunteer, psoriatic, Rosacea, cancer, and fibrotic systems
Cytokine, integrin, and cellsurface marker characterization of vessels or individual cells
Rodent, bovine and pocine endothelial cells and tissues
PHARMACEUTICAL APPLICATIONS
Direct and indirect drug-mediated injury
Localized injection site responses
Drug compatibility and irritation assessment
Mechanistic determinations of vascular changes
Apoptotic and anti-apoptotic mechanisms
Assessment of angiogenic and anti-angiogenic activity
Drug-induced vascular toxicity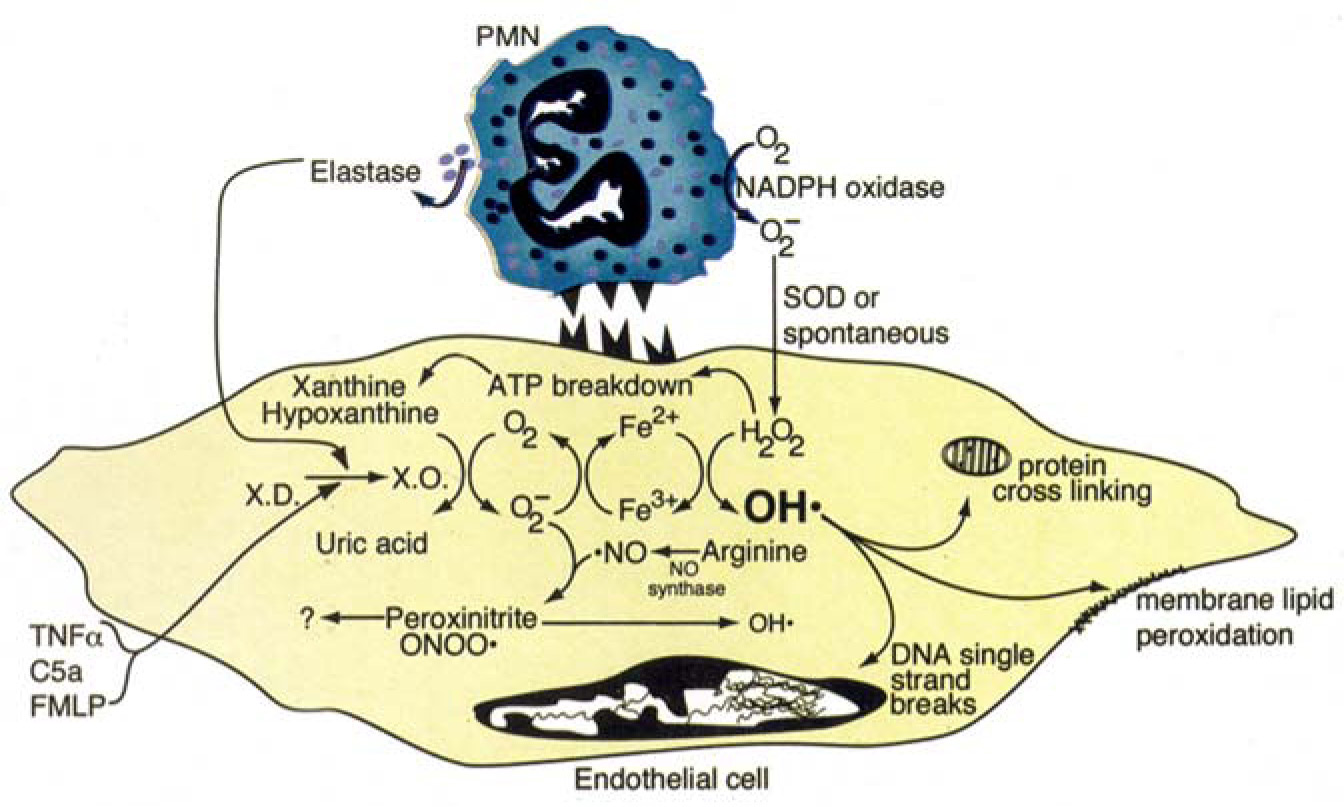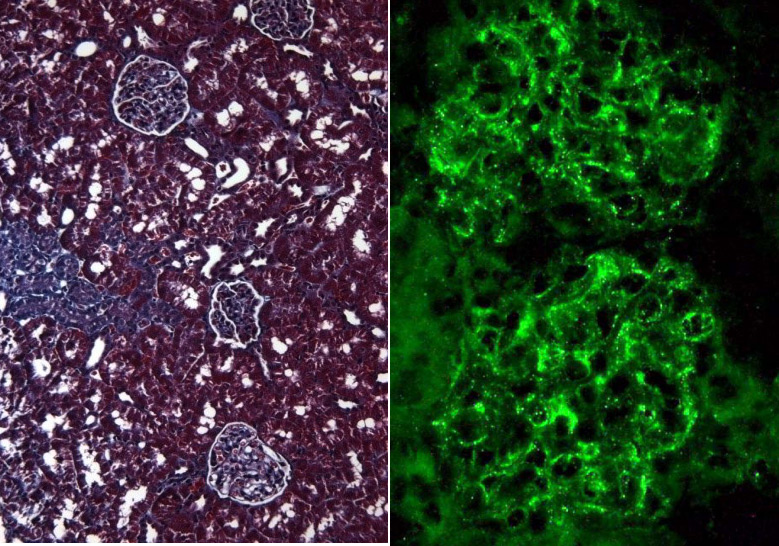 SYSTEMS FOR DETECTING RENAL INJURY AND FUNCTION
In vivo models of drug-induced nephrotoxicity, diabetes, vasculitis, and glomerulonephritis
In vivo models of vasculitis and imflammatory injury
In vivo characterization of glomerular microangiopathic injury
Human and rodent podocyte culture – primary and cloned cells
Mesangial and tubular cell culture
ELISA and standard clinical pathology monitoring of renal biomarkers
PHARMACEUTICAL APPLICATIONS
Detection of drug-induced changes on kidney and kidney function
Screening of drug candidates for kidney toxicity
Direct and indirect drug-mediated injury characterization
Mechanistic determinations of pharmacologic activity
Specific characterization of kidney injury pathways
Therapeutic potential of new therapies – small molecule and biologic
Human, Cynomologus Monkey, and Rodent Mast Cell Assays
IN VITRO CHALLENGE OF ISOLATED MAST CELLS
Rat Peritoneal Mast Cells
Human Mast Cell Line
Human Peripheral Blood Granulocytes
Cynomolgous Monkey Peripheral Blood Granulocytes
DETERMINATIONS OF MAST CELL DEGRANULATION
HUMAN & CYNOMOLOGUS MONKEYS
Histamine
Tryptase
Beta-Hexosaminidase
Toxicity as measured by LDH
RAT MAST CELLS
Histamine
Tryptase
Chymase
Toxicity as measured by LDH
PHARMACEUTICAL APPLICATIONS
Screening of compounds for hypersensitivity potential
Screening of compounds for mast cell activation
Suppression of mast cell activation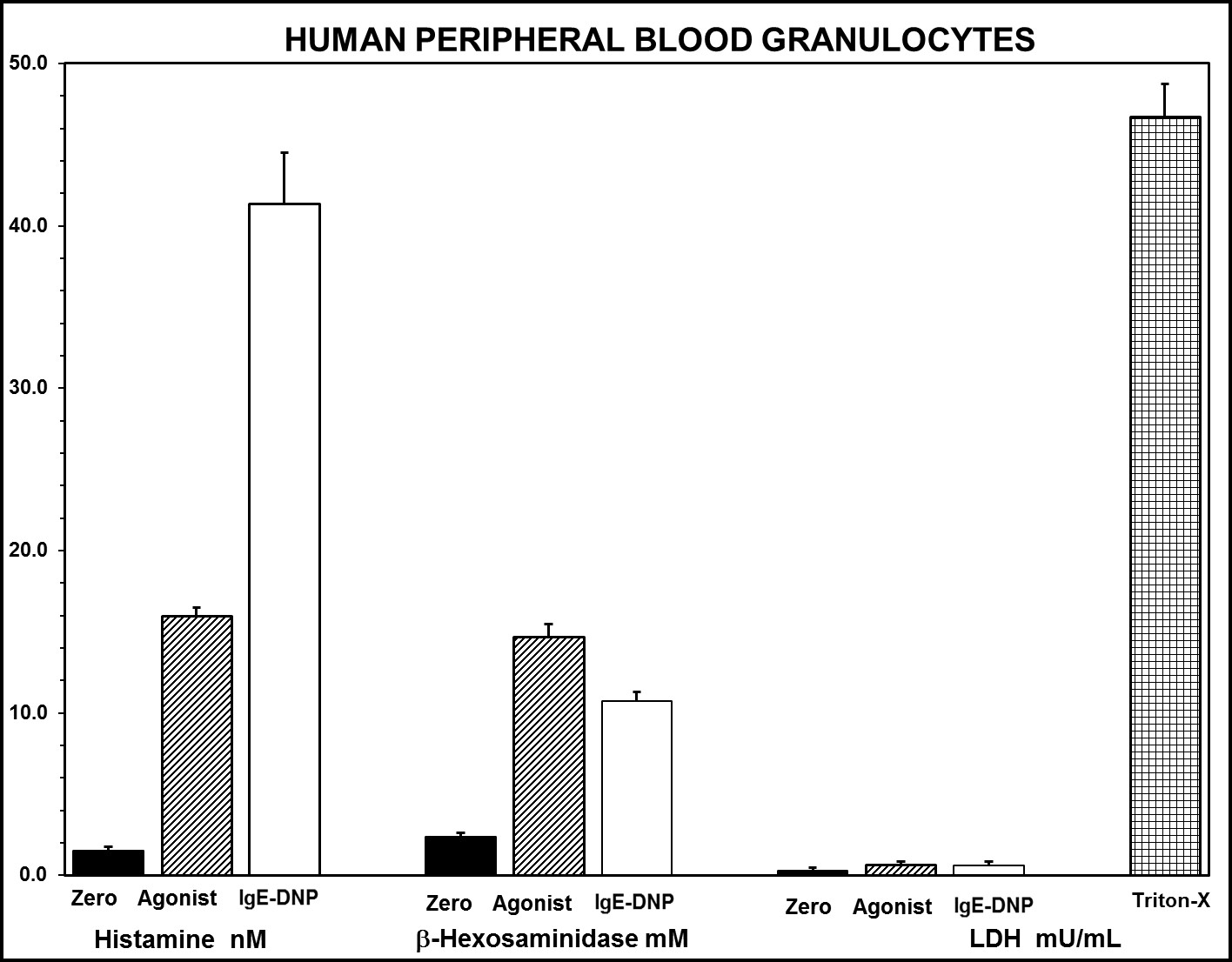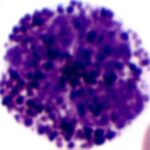 Human And Animal Models For Mast Cell Biology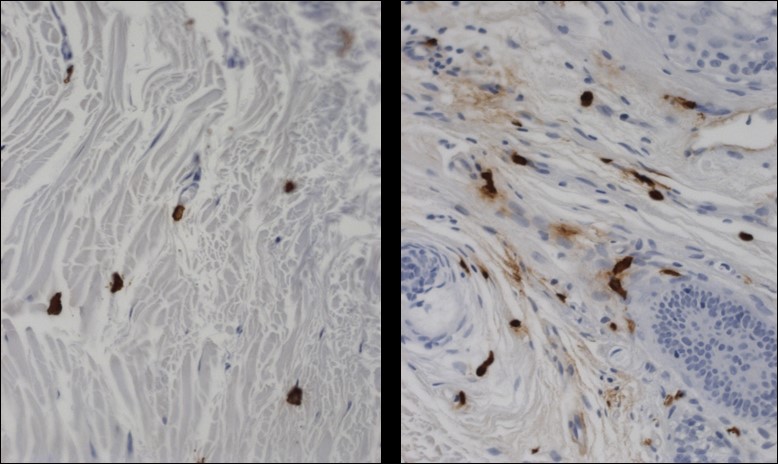 HUMAN AND RODENT MAST CELL SYSTEMS
Human skin organ culture to assess mast cell numbers and degranulation
In vitro challenge of rat peritoneal mast cells for histamine and/or IL-17 release
Measurement of histamine, chymase, tryptase, and IL-17 release
Histology and cytology using immunohistochemistry and ultrastructure methods
Development of client-specific applications for drug screening
PHARMACEUTICAL APPLICATIONS
Screening of compounds for immediate hypersensitivity potential
Supplementing of internal testing resources
Mechanistic determinations of drug efficacy or toxicity
Suppression of mast cell activation
Comparative testing of preclinical and clinical drug responses
SYSTEMS FOR PLASMA, SERUM, AND CELL CULTURE SUPERNATANTS
Rapid and specific measurement of:
Cytokines and chemokines
Inflammatory proteins
Growth and angiogenesis factors
Protease and protease inhibitors
Cell adhesion molecules
Heat shock proteins
Complement proteins
Anti-coagulant factors
>100 Human proteins and >45 rat proteins detected on the standard antibody array with low pg detections
Custom microarray development
High sample throughput with semiquantitation evaluation of multiple individual proteins
PHARMACEUTICAL APPLICATIONS
Analysis of clinical and preclinical samples for biomarker development
Detection of auto-antibodies
Direct and indirect drug-mediated injury characterization
Mechanistic determinations of pharmacologic and toxicologic activity
Sample screening to determine which proteins to target in renal disease,
inflammatory reactions, auto-immunity, and transplantation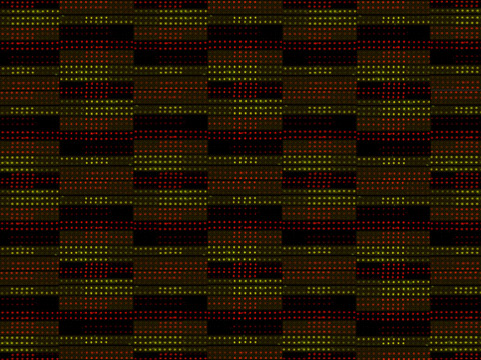 Research ELISA Development And Conduct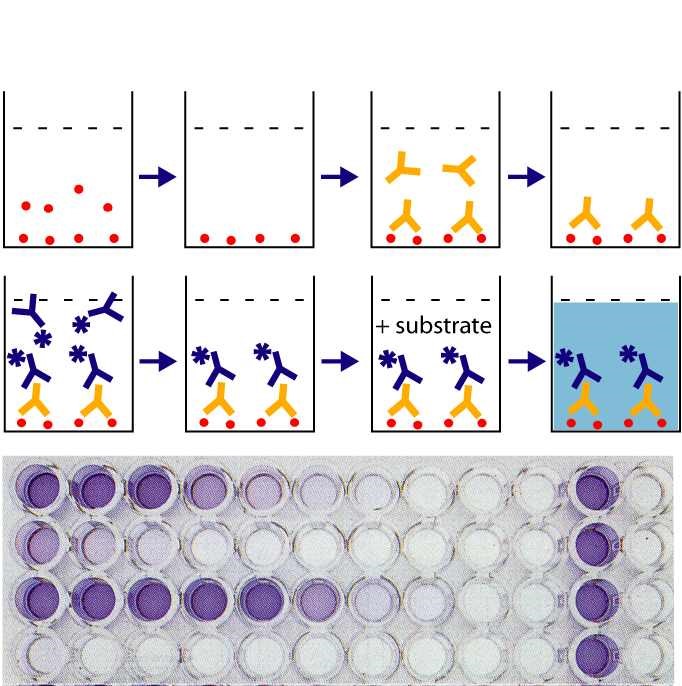 ELISA OFFERINGS
Accurate and reproducible performance of commercial or client ELISA assays
Development of new research ELISA methods to client's performance specifications
Analysis of human, animal, and cell culture samples
Extensive menu of available cytokine, protease, peptide, and growth factor assays
Generation of positive control reagents and reference materials
PHARMACEUTICAL APPLICATIONS
Characterization of drug-induced effects from in vitro and in vivo models
Cost-effective assay development for early-stage applications
Mechanistic study support
Supplementing of internal resources for sensitive ELISA methods
Exploratory investigations of clinical specimens
Screening immunogenicity determinations
Third-part validation of test results
FULL RANGE OF MODELS FOR STUDY OF TUMOR IMMUNOLOGY
Human tumors in xenograft models
Rodent tumors in syngeneic host
Carcinogenesis / anti-carcinogenesis models
2D and 3D cell culture
PHARMACEUTICAL APPLICATIONS
Preclinical assessment in support of Mab and vaccine development programs
Detection and quantification of target molecules on tumor cells and normal counterparts by confocal immunofluoresce microscopy, flow cytometry, immunohistology, ELISA and western blotting
Assessment of efficacy with monoclonal antibodies, peptides and immune modulators in cell culture models, in syngeneic rodent models and in human xenograft models
Studies to assess mechanisms of action
Target molecule modulati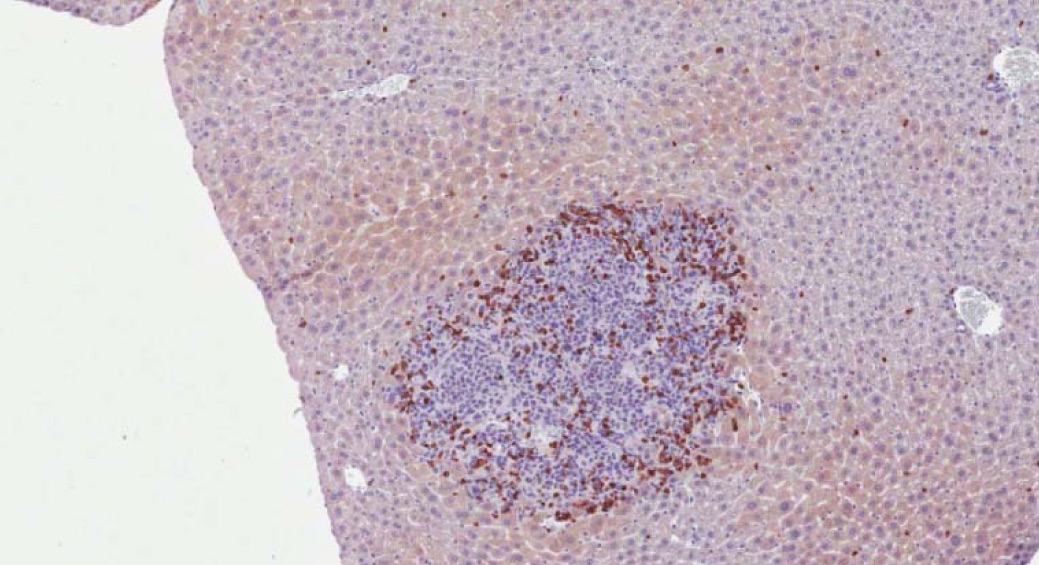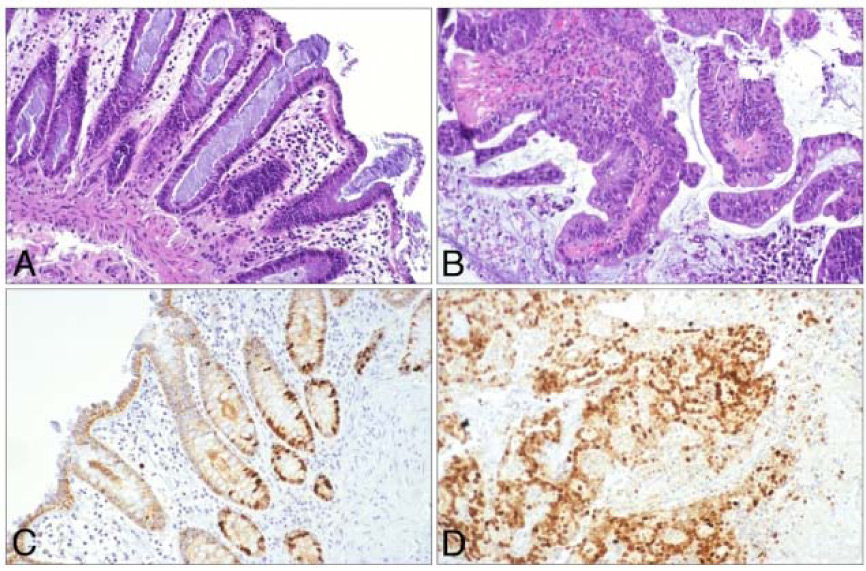 FULL RANGE OF MODEL SYSTEMS OR STUDY OF TUMOR CELL BIOLOGY
Human tissue – normal, premalignant and malignant in culture
Xenograft models
Rodent tumor models for primary tumor and metastatic growth
2D and 3D cell culture
PHARMACEUTICAL APPLICATIONS
Preclinical assessment of therapeutic efficacy in cell culture models and in ex vivo human tissue models
Dietary / therapeutic intervention in long-term rodent models
Mechanisms of action with small molecule inhibitors and Mabs
Models for carcinogenesis and anti-carcinogenesis
Biomarker detection and modulation